Skin & Gut Vegan Wellness Elixir
Ultimate 2.0 Vegan Duo Bundle
Regular price

$155.00

Sale price

$132.00
Our new vegan duo bundle gives you 8 weeks of skin and inner wellness support plus 20% off.
This all-in-one elixir combines 12 powerful science-backed ingredients in proven active dosages, expertly formulated and tailored for those living an active, social lifestyle or ages 30-50. Including world's first vegan collagen alternative.
+ Optimise gut health, detox and debloat
+ Protect, clarify, and brighten skin
+ Adaptogenic energy, stress, and mood support
Very Berry flavour powdered elixir  |  245 g |  56 days supply
What's inside?

12 nutrient-dense, science-backed ingredients, in active dosages - the equivalent of four powerful health products with a multitude of benefits in one great-tasting daily dose.

Combining pre and probiotics, VeCollal® vegan collagen booster, hyaluronic acid and essential skin-enhancing antioxidants and nutrients, in clinically trialled dosages and proprietary formulations.
What it will do for you

Benefits you can see and feel, your daily dose of wellness proven to:

1. Sooth and protect the gut, balance gut microbiome, and support nutrient absorption

2. Smooth fine lines, hydrate and plump skin, and boost collagen production

3. Support cellular health for strong hair and nails, healthy microcirculation and immune health 

4. Support mood and boost with antioxidant and nutrient nervous system support and adrenal health
Who it benefits

Expertly designed to meet the wellness-specific concerns of 30 - 50 year old's living a plant-based lifestyle.

Vegan and allergen free, Ultimate 2.0 Vegan encompasses all of your skin, hair and nail essentials with the added benefits of supported gut, immune and micro-circulation health.
How it works

The complexity of skin and the intricate interplay between it and the rest of the
body requires potent blends of synergistic science backed ingredients to deliver effective long-term results.

This multi-benefit formulation begins with the foundation of vibrant, healthy skin – the gut.  It doesn't stop there – the synergistic formula targets four key contributing factors to vibrant skin and overall wellness.
Key Ingredients

GutRenew OptyBiotics (pre and pro biotics) promote healthy microbiome, clear skin and enhance nutrient absorption

CollagenRenew OptyBlend (5000 mg VeCollall® vegan collagen booster with ginseng, gotu kola and vitamin C plus hyaluronic acid) is skin plumping, smoothes fine lines, improves skin elasticity, tone and texture, and boosts skin hydration and skin barrier

SkinProtect OptyBlend (Grapeseed extract and Melon SOD) Combat oxidative stress and protect cell from free radical damage, Support capillary health and microcirculation,  Support skins immune defence and barrier

SkinFood OptyBlend (Saccharomyces cerevisiae, brown rice silica, sea buckthorn, betacarotene, and Vitamin E) support immune system health, increase energy and stress resistance, support cognition and nervous system health, support hormone regulation and metabolism, support liver function and detoxification
Full ingredient & nutrition information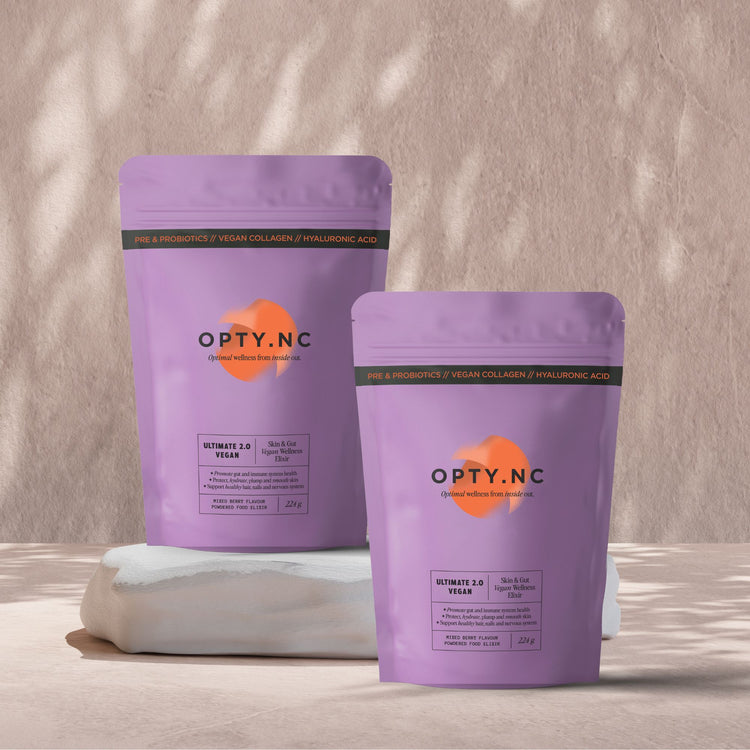 Ultimate 2.0 Vegan Ingredient & Nutrition Information
Ingredient List:
Vegan CollagenRenew OptyBlend™ (vegan collagen
booster [62.5%] [L-Glycine, L-Proline, L-Alanine, gotu Kola extract,
L-Glutamic acid, L-Arginine base, L-aspartic acid, L-Serine, L-Lysine
HCl, L-Leucine, L-Valine, L-Threonine, L-Glutamine, Vitamin C,
Anti-caking agent (Calcium silicate), L-Asparagine monohydrate,
L-Isoleucine, L-Phenylalanine, L-Cysteine, L-Tyrosine, L-Methionine,
L-Histidine, Panax ginseng root extract, L-Tryptophan], sodium
hyaluronate [1.5%]), SkinFood OptyEssence™ (natural flavours, food
acids [citric acid, sodium citrate], stevia [sweetener]), GutRenew
OptyBlend™ (7.4%) (Livaux® gold kiwifruit powder, aloe vera inner
leaf gel powder, Bacillus coagulans [probiotic]), SkinFood
OptyBlend™ (Saccharomyces cerevisiae, purple carrot powder,
brown rice hull powder, betacarotene [0.3%], vitamin E [0.2%]),
SkinProtect BioBlend™ (grapeseed extract [2%], Curcumis melo
melon fruit juice concentrate).
 
NUTRITION INFORMATION

Serving size: 8 g                 

Servings per package: 28           

Quantity

per serving

Quantity

per 100 g

Energy

103 kJ

1287 kJ

Protein

4 g

55 g

Fat, Total

LESS THAN 1g

LESS THAN 1g

     Saturated

LESS THAN 1g

LESS THAN 1g

Carbohydrate

1.5 g

18.7 g

     Sugars

LESS THAN 1g

7.5 g

Sodium

46 mg

1577 mg

Vitamin A (RE) (80% RDI*)

375 mcg

4.9 mg

Vitamin B2 (28% RDI*)

0.5 mg

6 mg

Vitamin B3 (48% RDI*)

4.8 mg

60 mg

Vitamin B6 (41% RDI*)

0.7 mg

8.3 mg

Biotin (150% RDI*)

45 mcg

563 mcg

Vitamin C (265% RDI*)

100 mg

1.3 g

Vitamin E (50% RDI*)

5 mg

39 mg

Selenium (51% RDI*)

36 mcg

450 mcg

Silicon

17.7 mg

225 mg

Zinc (31% RDI*)

3.7 mg

47 mg

Gold Kiwifruit [prebiotic]

600 mg

7.5 g

Bacillus coagulans [probiotic]

1 billion CFU

12.5 billion CFU

Grapeseed [antioxidant]

187.5 mg

2.3 g

Melon SOD [antioxidant]

140 IU

1750 IU

Hyaluronic acid

120 mg

1.3 g
*Percentage daily intakes are based on an average adult diet of 8700 kJ.
Natural Ingredients
Highest Quality, Nutrient Dense
Gut-Skin Connection
Addressing the Root Cause
Ages 30 - 50
Suits Busy Demanding Lifestyle
Allergen Free
No Gluten, Dairy, Soy, Egg
The Ultimate OptyBlends:
– the powerful proprietary blends behind the benefits.
GutRenew OptyBlend™

+ A powerful and complete gut food: synbiotic blend of pre and probiotics for enhanced nutrient absorption and gut immune function

+ Promote healthy microbiome Livaux® gold kiwifruit increases essential bacteria F. prau levels from 3.4% to 7.0% of microbiome density

+ Promote clear skin: Bacillus coagulans reduced the number of whiteheads or blackheads in 72% of study subjects

+ Enhance nutrient absorption: Aloe vera enhances collagen production and skin elasticity, as well as increase absorption of vitamins C, E and B12

Vegan CollagenRenew OptyBlend™

+ Dermal Health Complex: Synergistic beneifts of VeCollal vegan collagen booster and Hyaluronic Acid with multi benefits for boosted hyaluronic acid, elastin and collagen renewal.

+ Human collagen type-1 mimetic with clinically proven dermal results:
- Plant-based extracts stimulate new collagen production in fibroblasts
- Reduce wrinkle volume 13% in 4 weeks
- Increase collagen density by 4.6% in 4 weeks

+ Synergistic benefits:- Hyaluronic acid plumps, smooths and hydrates
- Support muscle mass and repair after exercise
- Support joint health and gut health

SkinProtect OptyBlend™

+ Targeted and potent antioxidant protection: Combats the oxidative effects from the stressors of modern life to reduce the visible signs of aging

+ Enhance microcirculation and nutrient delivery: Grapeseed extract improves microcirculation, capillary strength and endothelial function

+ Broad spectrum antioxidant protection: SOD from propriety cantaloupe melon extract has been shown in clinical trials to:

- protect skin against external oxidative stressors such as UV exposure
- improve physical and mental fatigue, as well as cognition
- improve sleep, irritability, concentration and fatigue

SkinFood OptyBlend™

+ Healthy hormones and metabolism: Vitamin B6 is essential for hormone regulation, energy production, protein metabolism and macro-nutrient metabolism

+ Support healthy skin, hair and nails: vitamin A, C, E, zinc and silica offer antioxidant protection and nourish sebum, skin structure and dermis health

+ Support immune health: S. cerevisiae are naturally high in immune boosting beta glucans, B vitamins, selenium and zinc