Dermal Clarify
Regular price

Sale price

$55.00
A complexion support booster that clarifies and soothes imbalanced skin for a clearer, brighter tone & texture, formulated for congested, breakout-prone skin.
This ingestible probiotic serum utilises key ingredients of Chaste Berry, Zinc, Chromium and Fermented Postbiotics to synergistically clear congested skin and brighten complexion, while optimising gut microbiome to calm and soothe skin imbalances from within. 
Kiwifruit flavoured liquid | 50mL | Daily serving 2 droppers
What it will do for you

Dermal Clarify has been formulated to support your body to balance, calm and soothe acne prone and congested skin for a clearer, brighter complexion. It works to:

- Optimise gut microbiome balance
- Support digestive and metabolic wellbeing 
- Support healthy blood sugar metabolism
- Promote skin clarity and clear congested skin  
- Support wound healing and cellular turnover
- Promote a healthy, clear, resilient complexion
How it works

Designed to target the foundation of wellbeing – the gut; our proprietary probiotic fermented concentrate harnesses the gut-skin axis to balance and nourish the skin from the inside out.

We address three key body imbalances that can lead to development of acne and skin congestion:

- Balance the gut microbiome and support healthy digestion
- Metabolic imbalances and blood glucose metabolism
- Nutritional support for skin health and wound healing

Who it benefits

Those with acne prone and congested skin or body imbalances that may lead to breakouts associated with hormonal changes such as PMS or menopause.

Suitable from ages 12+ for all genders.

Key ingredients

+ Proprietary fermented kiwi with OptyBiotics™ support digestive wellbeing and promote skin clarity
+ Chaste berry, quercetin, and chromium support healthy blood sugar metabolism and metabolic wellbeing
+ Zinc and Vitamin C support wound healing, cellular turnover and a resilient complexion
Full Ingredient & Nutrition Information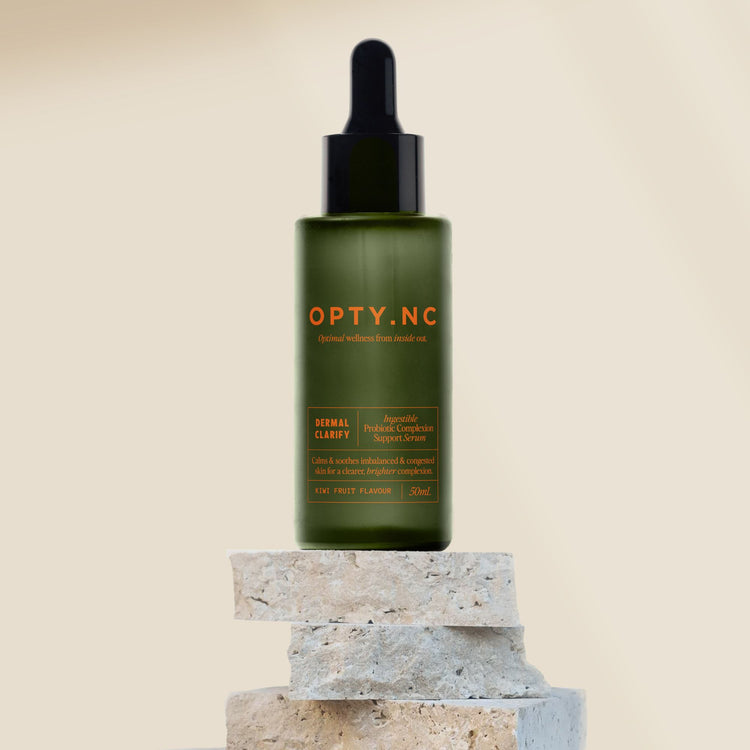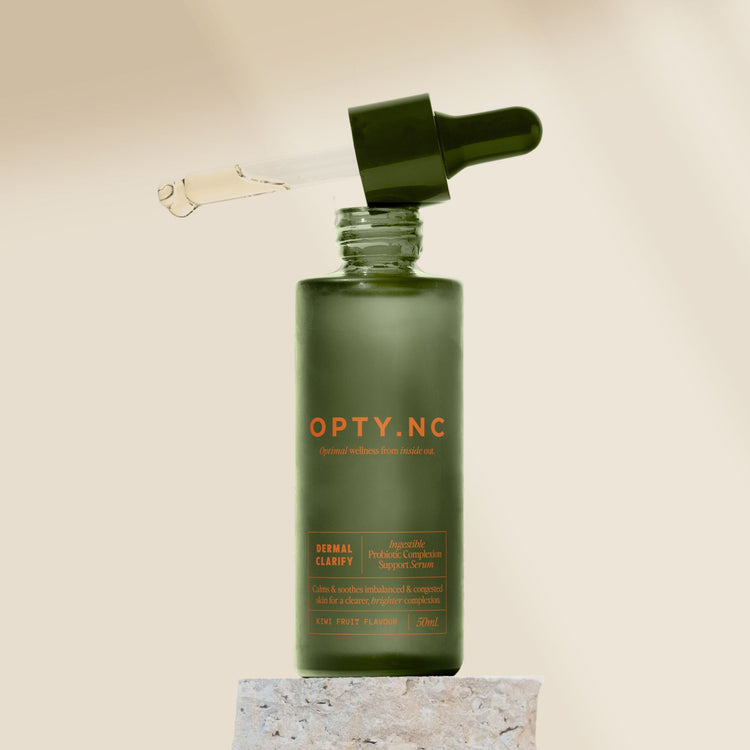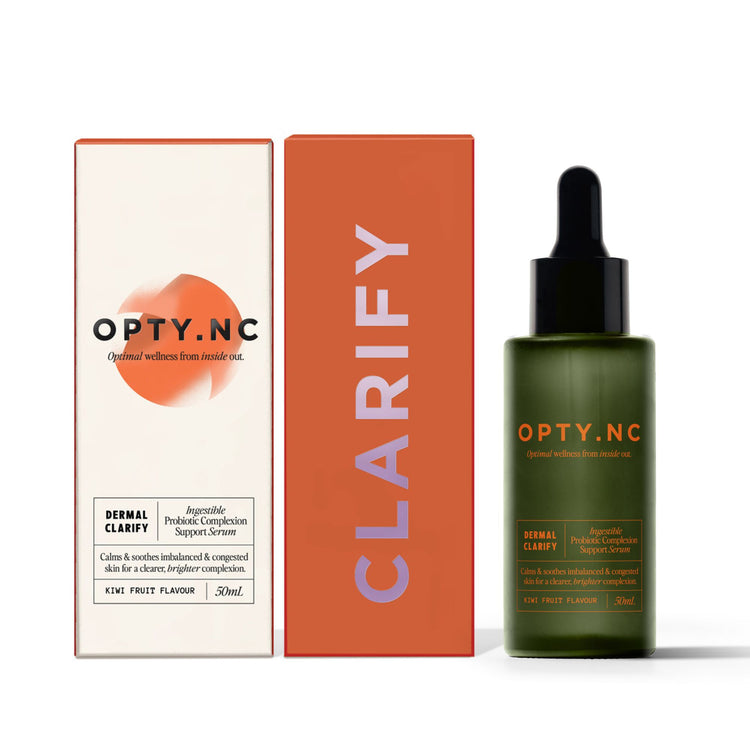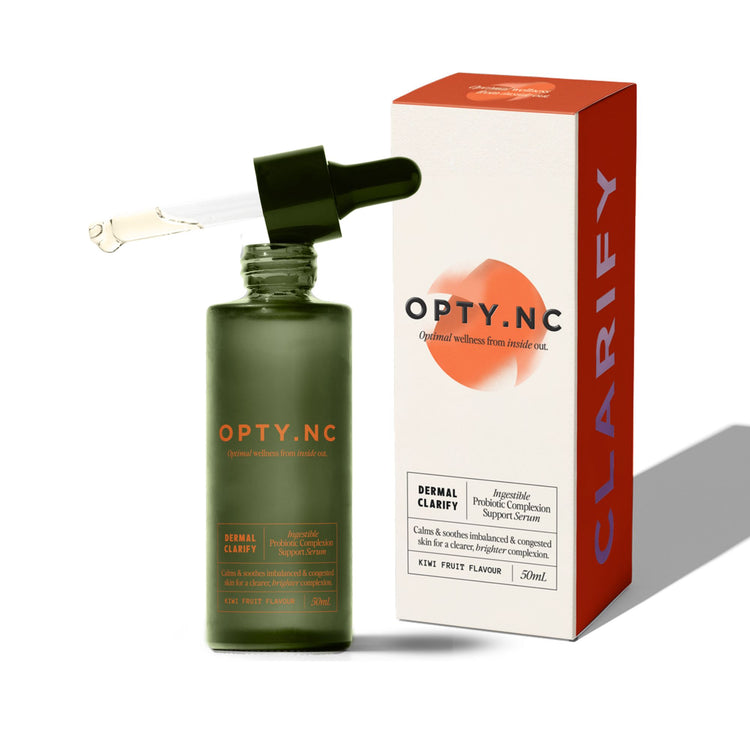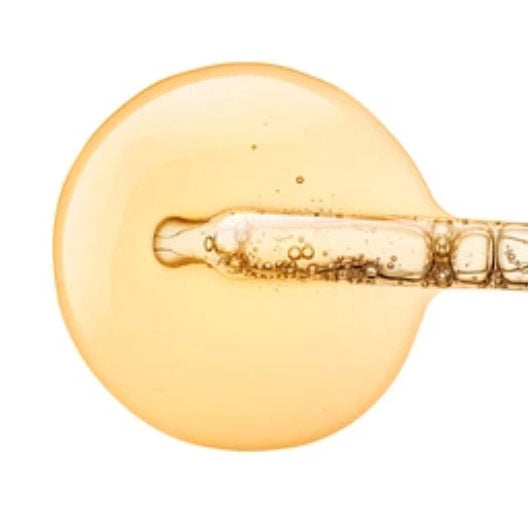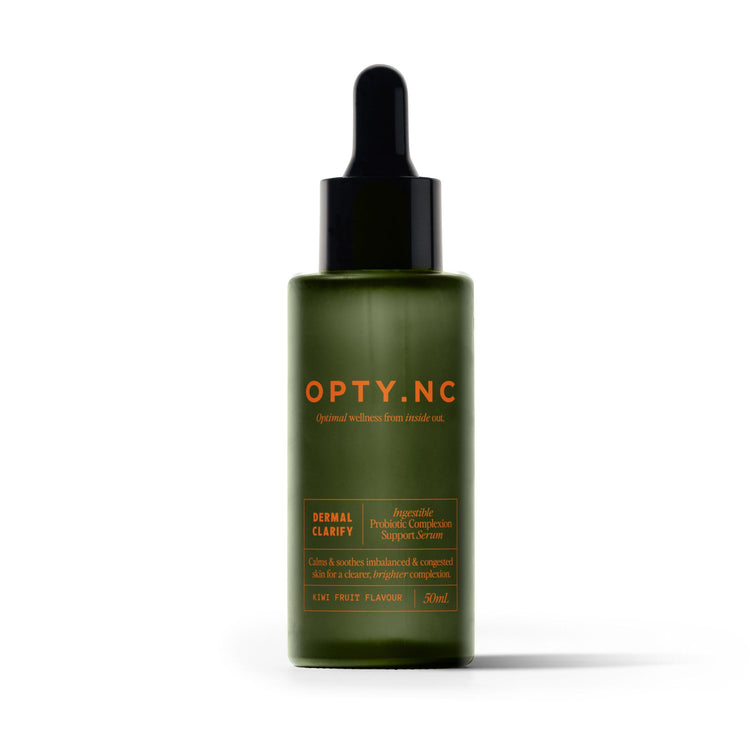 Dermal Clarify Ingredient & Nutrition Information
Full ingredient list:

Clarify OptyBiotics™ (50%) (fermented kiwi fruit, Sophora japonica [containing natural quercetin] and chaste berry [containing postbiotic Lactobacillus rhamnosus, Lactobacillus plantarum, Bifidobacterium longum, Streptococcus thermophilus]), glycerol, SkinClear OptyBlend™ (3%) (acerola cherry [containing natural vitamin C], zinc gluconate, chromium picolinate), OptyEssence (natural flavour, xanthan gum, stevia), potassium sorbate.

Nutrition Information:

Serving size: 2 mL                 

Servings per package: 25           

Quantity per serving
Quantity per 100

mL

Energy

7.3 kJ

367 kJ

Protein

LESS THAN 1g

LESS THAN 1g

Fat, Total

LESS THAN 1g

LESS THAN 1g

     Saturated

LESS THAN 1g

LESS THAN 1g

Carbohydrate

LESS THAN 1g

19.2 g

     Sugars

LESS THAN 1g

1.5 g

Sodium

2.4 mg

120 mg

Vitamin C (25% RDI*)

10 mg

500 mg

Zinc (25% RDI*)

3 mg

150 mg

Chromium (100% RDI)

200 mcg

10 mg
 *Percentage daily intakes are based on an average adult diet of 8700 kJ.
Natural Ingredients
Highest Quality, Nutrient Dense
Gut-Skin Connection
Addressing the Root Cause
Allergen Free
No Gluten, Dairy, Soy, Egg
Age 13+
Suitable for teens and adults
The Dermal Clarify OptyBlends:
– the powerful proprietary blends behind the benefits.
Clarify OptyBiotic™

+ Promote skin clarity: fermented quercetin and chaste berry are both potent antioxidants that can help to support body imbalances that contribute to congested dull complexion

+ Support digestive wellbeing:  fermented kiwi contains digestive enzymes, fibres and polyphenols to help smooth and sooth digestion

+ Support gut-skin connection: postbiotic bacteria support epithelial barrier function in the gut and skin and have been shown to reduce skin congestion in skin prone to breakouts

SkinClear OptyBlend™

+ Support healthy metabolism: chromium is necessary for the proper
metabolism of carbohydrates, fats and proteins and balances blood sugar

+ Support wound healing: Zinc is essential for wound healing, tight junction integrity and immune system function for healthy skin and cellular turnover

+ Protect and brighten complexion: vitamin C is a potent antioxidant essential for new collagen formation and protection form free radical damage