Ultimate 3.0 Marine Duo Bundle
Regular price

$182.00

Sale price

$155.00
Our new duo bundle gives you 8 weeks of skin and inner wellness support plus 20% off.
This all-in-one elixir combines 12 powerful science-backed ingredients in proven active dosages, expertly formulated and tailored for those living an active, social lifestyle or ages 50+.
+ Renew skin and hair vitality
+ Promote joint, bone, and muscle health
+ Support healthy hormones and cognition
Strawberry flavour powdered elixir  |  252 g |  56 days supply
What is it?

The equivalent of four powerful health products with a multitude of benefits in one great-tasting daily dose.

Combining pre and post biotics, 10,000mg marine collagen peptides, hyaluronic acid, MSM and essential skin and hair-enhancing antioxidants and nutrients, in clinically trialed dosages and proprietary formulations.
What it will do for you

Benefits you can see and feel, your daily dose of wellness proven to:

1. Support optimal digestive and bowel function, protein absorption, and microbiome balance to support healthy ageing

2. Restore, protect and hydrate skin. Promote collagen renewal to smooth fine lines and wrinkles, and boost elasticity, tone and texture.  

3. Support cellular health to reduce hair fall, boost hair growth and strength;  support hormone regulation, collagen production in joints and muscle health.

4. Balance and promote healthy nervous system, cognition, and energy production
Who it benefits

Expertly designed to meet the wellness-specific concerns of 50+ year old's. Ultimate 3.0 Marine benefits those looking to support hormonal health, and promote healthy ageing in skin, hair and joints.

Ultimate 3.0 Marine encompasses all of your skin, hair and nail essentials with added benefits to support hair growth and thickness, joint health, and restore gut and skin health for supported healthy aging.
How it works

The complexity of skin and the intricate interplay between it and the rest of the body requires potent blends of synergistic science backed ingredients to deliver effective long-term results.

This multi-benefit formulation begins with the foundation of vibrant, healthy skin – the gut.  It doesn't stop there – the synergistic formula targets four key contributing factors to vibrant skin and overall wellness:

1. Gut & Immune Health

2. Skin Health & Protection

3. Cellular, Metabolic & Hormonal Health

4. Nervous System, Mood & Cognitive Health
Key ingredients

GutRestore OptyBiotics (pre and post biotics) promote healthy microbiome, Improve digestion and gut function, Enhance nutrient absorption

CollagenRenew OptyBlend (10,000 mg marine collagen, MSM and hyaluronic acid) is skin plumping, smoothes fine lines, improves skin elasticity, tone and texture, and boosts skin hydration and skin barrier, boost hair and nail strength and growth  

SkinRegen OptyBlend (Pomegranate extract and silver ear mushroom) Increases hair growth, thickness and density, combat oxidative stress and protect cell from free radical damage, support skins immune defences 

SkinFood50+ OptyBlend (Saccharomyces cerevisiae, brown rice silica, sea buckthorn, Vitamin C & K) support immune system health, increase energy and stress resistance, support cognition and nervous system health, support hormone regulation and metabolism, support liver function and detoxification
Full ingredient & nutrition information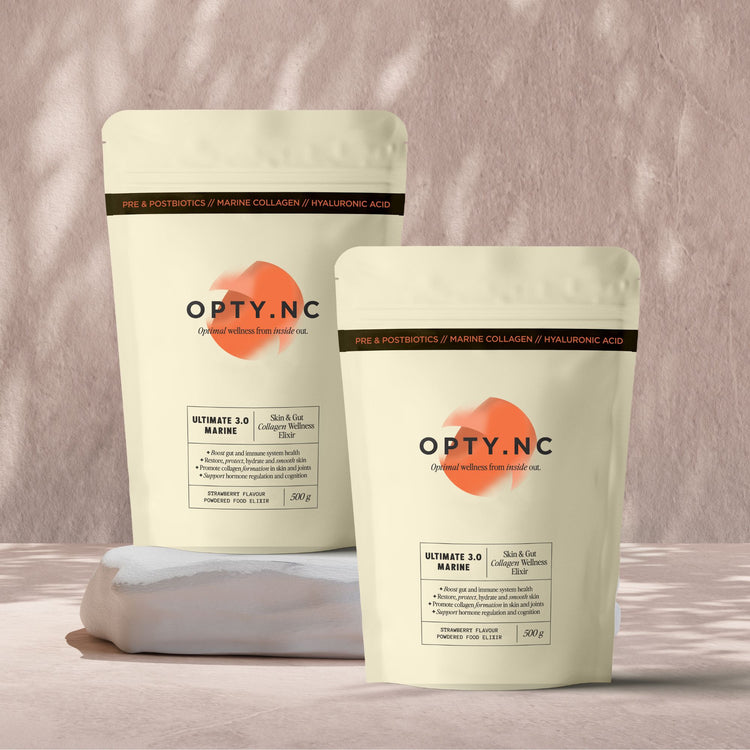 Ultimate 3.0 Marine Ingredient & Nutrition Information
Ingredient List:
Collagen Renew OptyBlend™ (62%) (Certified sustainable marine collagen peptides from wild Atlantic fish [57%], MSM [6%], sodium hyaluronate [0.7%]), GutRestore OptyBlend™ (17%) (Glucosamine sulphate [16.8%], aloe vera inner leaf gel powder, postbiotic Lactobacillus plantarum, Lactobacillus rhamnosus, Bifidobacterium longum),  SkinFood OptyEssence™ (food acid [citric acid, sodium citrate], natural berry flavour, stevia [sweetener]), SkinRegen BioBlend™ (pomegranate extract [4%], silver ear mushroom powder), SkinFood50+ OptyBlend™ (Saccharomyces cerevisiae, brown rice hull powder, sea buckthorn whole fruit powder, vitamin C, fermented chickpea extract)
Allergen advice: Contains fish. May contain traces of crustacean shellfish.
 NUTRITION INFORMATION
Serving size: 17.8 g                 

Servings per package: 28           

Quantity

per serving

Quantity

per 100 g

Energy

239 kJ

1342 kJ

Protein

10 g

54 g

Fat, Total

LESS THAN 1g

LESS THAN 1g

     Saturated

LESS THAN 1g

LESS THAN 1g

Carbohydrate

2 g

11 g

     Sugars

LESS THAN 1g

4 g

Sodium

175 mg

987 mg

Potassium

457 mg

2.6 g

Vitamin B1 (41% RDI*)

0.4 mg

2.5 mg

Vitamin B2 (28% RDI*)

0.5 mg

2.7 mg

Vitamin B3 (48% RDI*)

4.8 mg

27 mg

Vitamin B5 (33% RDI*)

1.7 mg

9.3 mg

Vitamin B6 (41% RDI*)

0.7 mg

3.7 mg

Biotin (150% RDI*)

45 mcg

254 mcg

Folate (60% RDI*)

120 mcg

676 mcg

Vitamin C (265% RDI*)

100 mg

561 mg

Vitamin K2 (25% RDI*)

20 mcg

112 mcg

Chromium (18% RDI*)

36 mcg

203 mcg

Selenium (51% RDI*)

36 mcg

203 mcg

Silicon

18 mg

100 g

Zinc (31% RDI*)

3.8 mg

21 mg

Glucosamine [prebiotic]

3 g

16.9 g

Postbiotic L. plantarum, L. rhamnosus, B. longum

1 billion CFU

5.6 billion CFU

Pomegranate [antioxidant]

730 mg

4.1 g

Hyaluronic acid

120 mg

674 mg

MSM

1 g

5.6 g
*Percentage daily intakes are based on an average adult diet of 8700 kJ.
Natural Ingredients
Highest Quality, Nutrient Dense
Gut-Skin Connection
Addressing the Root Cause
Ages 30 - 50
Suits Busy Demanding Lifestyle
Marine Collagen
Wild-caught, sustainably sourced
Gluten Free
No Gluten, Dairy, Soy, Egg
The Ultimate OptyBlends:
– the powerful proprietary blends behind the benefits.
GutRestore OptyBlend™

+ A powerful and complete gut food: synbiotic blend of pre and postbiotics for enhanced nutrient absorption and gut immune function

+ Glucosamine has been shown to act as a prebiotic, improve microbiome composition, reduce stomach bloating, and increase protein absorption.

+ Enhance nutrient absorption: Aloe vera enhances collagen production and skin elasticity, as well as increase absorption of vitamins C, E and B12


CollagenRenew OptyBlend™

+ 10,000 mg Certified Sustanable, wild-caught marine collagen peptides. Highest clinically proven dose for skin rejuvenation and low molecular weight for superior bioavailability

+ Clinically proven dermal results:
- Reduce eye wrinkle volume by up to 49%
- Increase skin elasticity by up to 40%
- Increase skin hydration by up to 28%
- Increase quantity and activity of fibroblasts
- Decrease collagen degradation by up to 31%

+ Synergistic benefits:

- boosted hyaluronic acid, elastin and collagen renewal
- Hyaluronic acid plumps, smooths and hydrates
- Support muscle mass and repair after exercise.
- Support joint health and gut health


SkinRegen OptyBlend™

+ Restore hair and skin health: Proprietary pomegranate extract shown in clinical trails to:
- Improves speed of hair growth, hair density and thickness and reduces hair fall
- Protect skin from free radical damage
- Improves skin moisture, brightness, elasticity and collagen density in the skin

+ Support skin hydration and skins immune support: Silver Ear Mushroom naturally contains vitamin D and active polysaccharides that moisturise skin from the inside out

SkinFood50+ OptyBlend™

+ Support healthy hormone regulation: Vitamin B6 is essential for hormone regulation as well as energy production, protein metabolism and immune system health

+ Support healthy skin barrier and collagen protection: vitamin C and omega 7 from sea buckthorn accumulate in sebum and mucous membranes to nourish the skins outer
surface

+ Support immune health: S. cerevisiae are naturally high in immune boosting beta-glucans, B vitamins, selenium and zinc

+ Bone and muscle health: Vitamin K, zinc and selenium and support healthy bone and muscle health and recovery