Moisture Surge
Regular price

Sale price

$60.00
A hydration super booster that replenishes moisture into very dry, dehydrated skin due to disrupted skin barrier caused by skin aging, environmental exposure, seasonal changes, hormonal changes, or air travel.
This ingestible probiotic serum utilises key ingredients of Hyaluronic Acid, Zinc, Biotin, Natural Rice Ceramide, and Fermented Postbiotics to synergistically hydrate the skin while restoring the gut microbiome and skin barrier to lock in moisture.
Berry flavoured liquid | 50mL | Daily Serving 2 droppers
What it will do for you

Infuse your skin with moisture and lock in hydration:


- Support skin barrier
- Support skins antioxidant defenses
- Fortify against moisture loss
- Skin plumping and smoothing
- Support repair of dry, flaky, cracked skin
- Improve gut and digestive health
- Combat bloating and indigestion
- Support a healthy diverse microbiome

How it works

Designed to target the foundation of wellbeing – the gut; our proprietary probiotic fermented concentrate harnesses the gut-skin axis to support and nourish the skin barrier from the inside out.

We address four key areas of skin imbalance to support dry and dehydrated skin:

- Balance the gut microbiome
- Lock moisture into the dermis
- Strengthen skins barrier to prevent trans epidermal water loss
- Combat oxidation and inflammation

Who it benefits

Those experiencing moisture depleted skin:

- following excessive sun exposure
- seasonal changes
- hormonal changes in menopause
- air travel
- dry scalp 

Can be used to sooth skin in cases of keratosis pilaris, eczema and psoriasis or as a maintenance product to promote hydration and skin barrier integrity for those with very reactive skin:

- Supports healthy skin ageing
- Complements dermal fillers to stimulate collagen regeneration and plump skin
- Complements abrasive dermal treatments to speed healing
- Complements the rest of the OPTY range


*speak to your healthcare practitioner before before use or changing your supplementation to ensure this product meets you individual needs.
Key Ingredients

+ Proprietary fermented black rice ceramides boost skin barrier
+ Hyaluronic acid, biotin, and zinc lock moisture in the dermis
+ Prebiotic noni with OptyBiotics™ fortify gut-skin axis
Full ingredient & nutrition information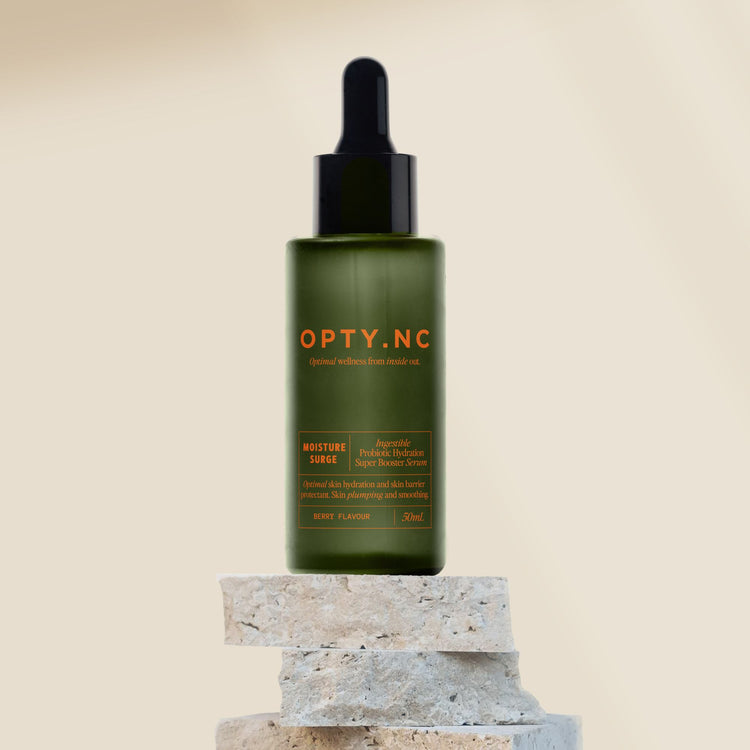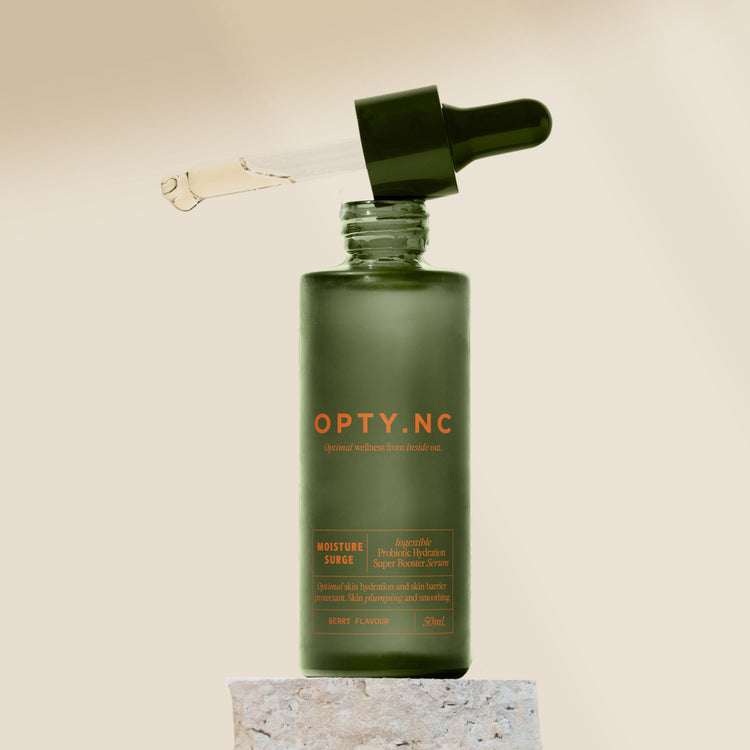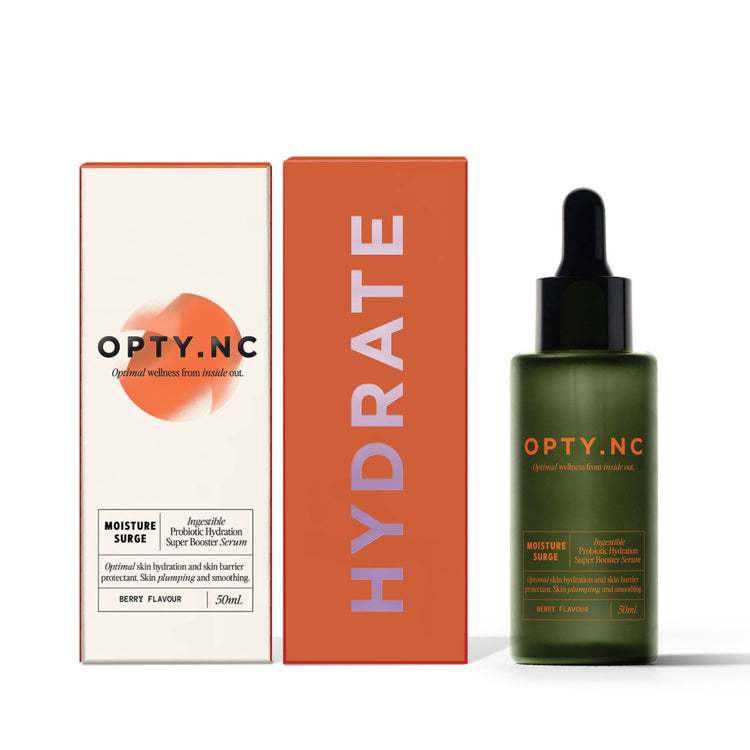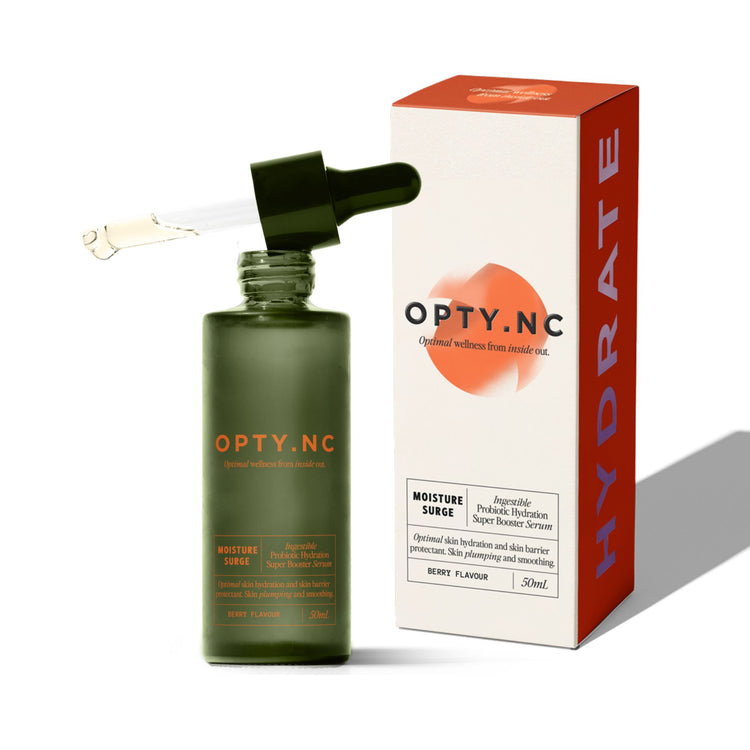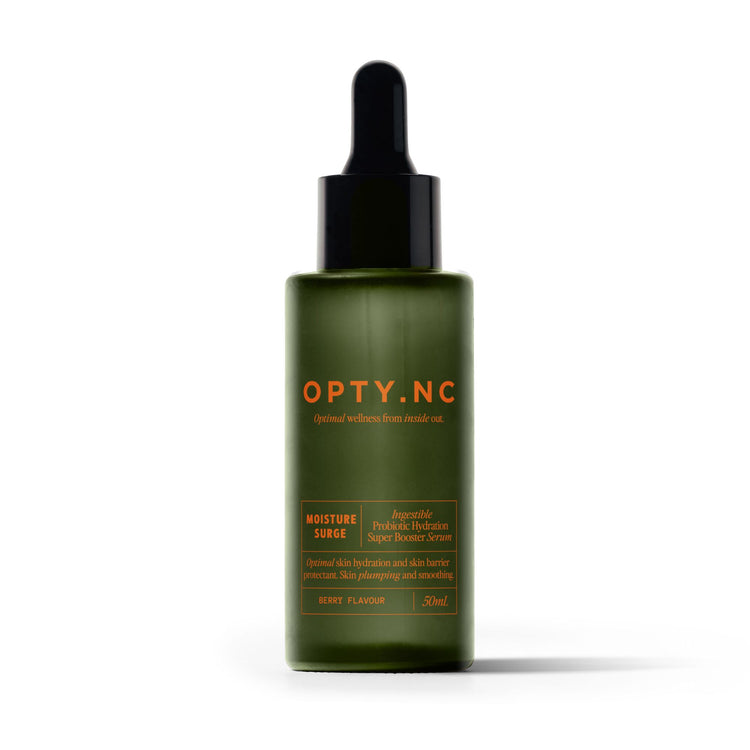 Moisture Surge Ingredient & Nutrition Information
Full ingredient list:

Hydrate OptyBiotics™ (50%) (fermented noni and black rice [containing postbiotic Lactobacillus plantarum, Lactobacillus paracasei]), glycerol, SkinHydrate OptyBlend™(6.5%) (hyaluronic acid, acerola cherry, zinc gluconate, biotin), OptyEssence (citric acid, natural berry flavour, stevia), potassium sorbate.

Nutrition information:

Serving size: 2 mL                 

Servings per package: 25           

Quantity per serving
Quantity per 100 mL

Energy

6.5 kJ

324 kJ

Protein

LESS THAN 1g

LESS THAN 1g

Fat, Total

LESS THAN 1g

1.3 g

     Saturated

LESS THAN 1g

LESS THAN 1g

Carbohydrate

LESS THAN 1g

15.6 g

     Sugars

 LESS THAN 1g

 1.1 g

Sodium

3 mg

154 mg

Biotin (100% RDI*)

30 mcg

1.5 mg

Vitamin C (25% RDI*)

10 mg

 500 mg

Zinc (25% RDI*)

3 mg

150 mg

Postbiotics (L. rhamnosus& L. plantarum)

2 B cells

100 B cells
*Percentage daily intakes are based on an average adult diet
of 8700 kJ.
Natural Ingredients
Highest Quality, Nutrient Dense
Gut-Skin Connection
Addressing the Root Cause
Allergen Free
No Gluten, Dairy, Soy, Egg
The Moisture Surge OptyBlends:
– the powerful proprietary blends behind the benefits.
Hydrate OptyBiotic™

+ Protect skin barrier: rice ceramides are clinically proven to improve moisture retention in the skin, skin texture and elasticity, and relieve symptoms of itching and dryness

+ Nourish and protect skin: fermented noni is a potent antioxidant that can support skin health and protect from oxidative stress

+ Support gut-skin connection: postbiotic bacteria support epithelial barrier function in the gut and skin and have been shown to reduce TEWL and increase moisture in skin

SkinHydrate OptyBlend™

+ Hydrate from within: Hyaluronic acid absorbs up to 1000 times its weight in water and works to hold moisture in the dermis. It has an anti-inflammatory effect in skin and may balance skin pH

+ Support wound healing and collagen formation: Zinc is essential for maintaining tight junction integrity in epithelium in the skin and gut and supports wound healing, immune system function and nervous system health.

+ Support skins sebum production: biotin is involved in the formation of fatty acids that form part of the skins surface lipid layer and is essential for healthy mucous membrane function