Clear Skin + Bundle
Regular price

$101.00

Sale price

$81.00
Deeply nourish to bring acne-prone and congested skin back into balance.

Those with depleted nutrition and skin prone to congestion and breakouts. Both clarifying and renewing this bundle contains 2 deeply nourishing products to:
-Optimise gut health and support healthy metabolism and digestion
-Replenish nutrients to support healthy skin, hair, nail, immune system, and nervous system
-Calm and soothe imbalanced skin to clear congestion and brighten the complexion
Contains: 1 pack Cellular Renew powder elixir and 1 bottle Dermal Clarify probiotic serum. 
What it will do for you

Optimize skin, hair, and nail health:

• Enhance skin structure, function, and wound healing

• Promote collagen formation in skin, blood vessels, cartilage, bones, teeth, and gums

• Support growth and improve strength of hair and nails

• Protect cells from oxidative stress and free radical damage

  

Optimize gut microbiome health:

• Support digestive and liver function

• Support metabolism of fats, carbohydrates, and proteins

• Balance microbiome and support gut-skin axis

 

Promote overall wellness: 

• Enhance immune system function to protect skin, hair and nails

• Supports healthy thyroid hormone production

• Support healthy nervous system, cognitive function and mental performance

• Promotes increased energy levels and reduction of tiredness and fatigue
How it works

We start by targeting the foundation of well being, the gut.

Cellular Renew delivers pre and post biotics in our proprietary OptyBiotics™
blend to balance the gut microbiome, and maximise nutrient absorption.

Then our natural, potent nutrient sources can get to work, to enhance and support skin, hair and nail health by optimising cellular nutrition.

This multi-benefit blend supports cognition, immune and nervous system function to boost energy and optimise your wellness.
Who it benefits

Anyone looking to specifically improve their skin, hair and nail health, and boost nutrition generally.

Highly recommended to enhance any skin care regime, both topical and injectible.

Cellular Renew contains a comprehensive nutritional profile and can fill ordinary nutritional gaps*.

Vegan and vegetarian friendly. Safe to consume during pregnancy and while breastfeeding*.

*speak to your healthcare practitioner before before use or changing your supplementation to ensure this product meets you individual needs.
Nutrition information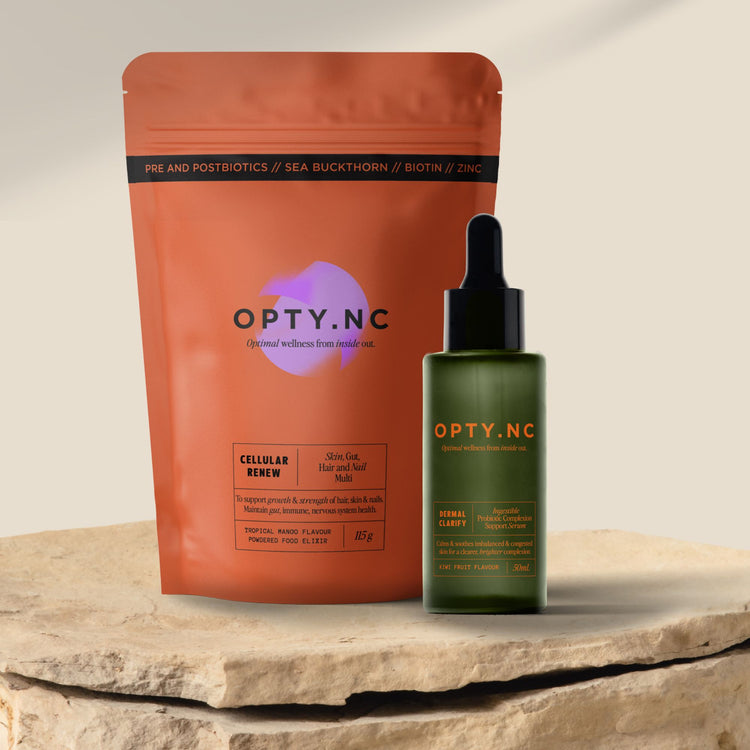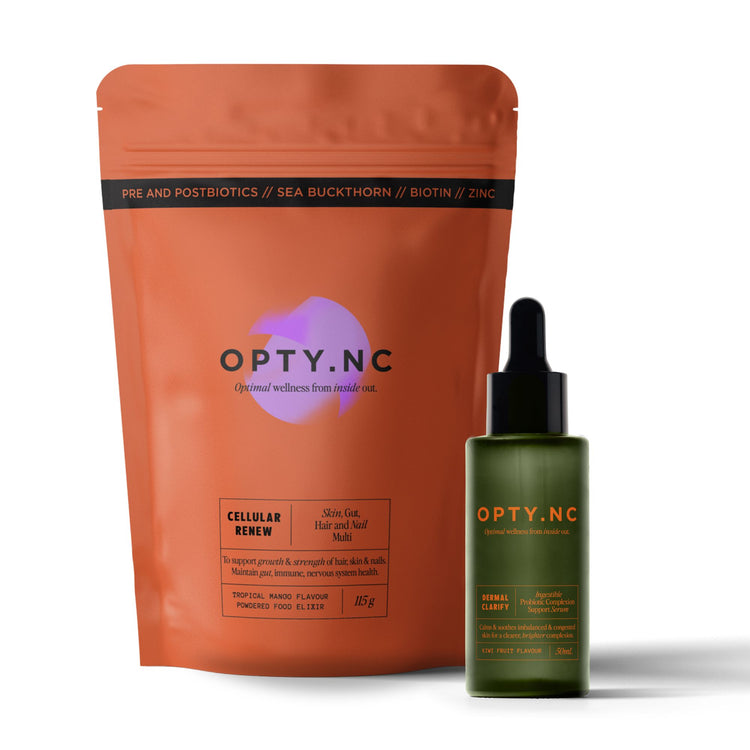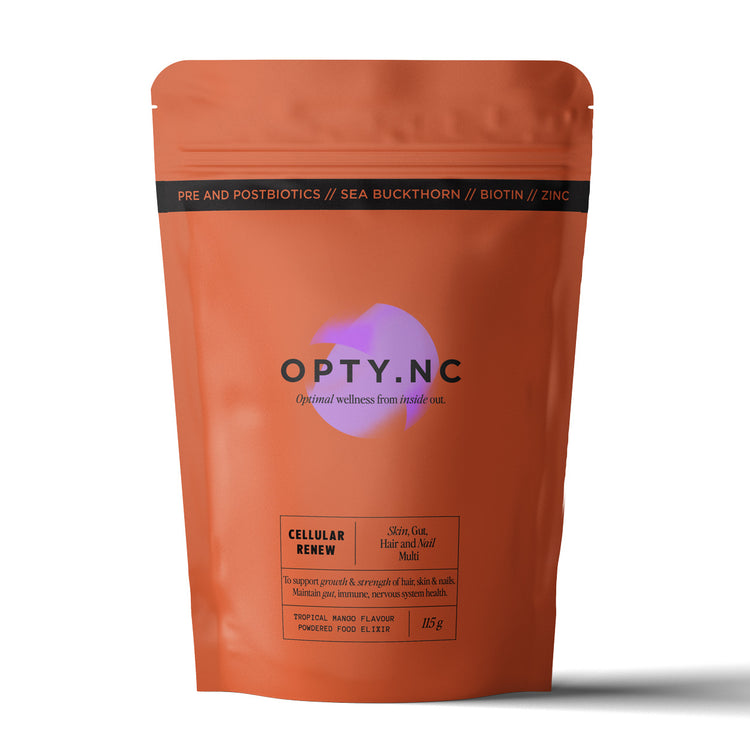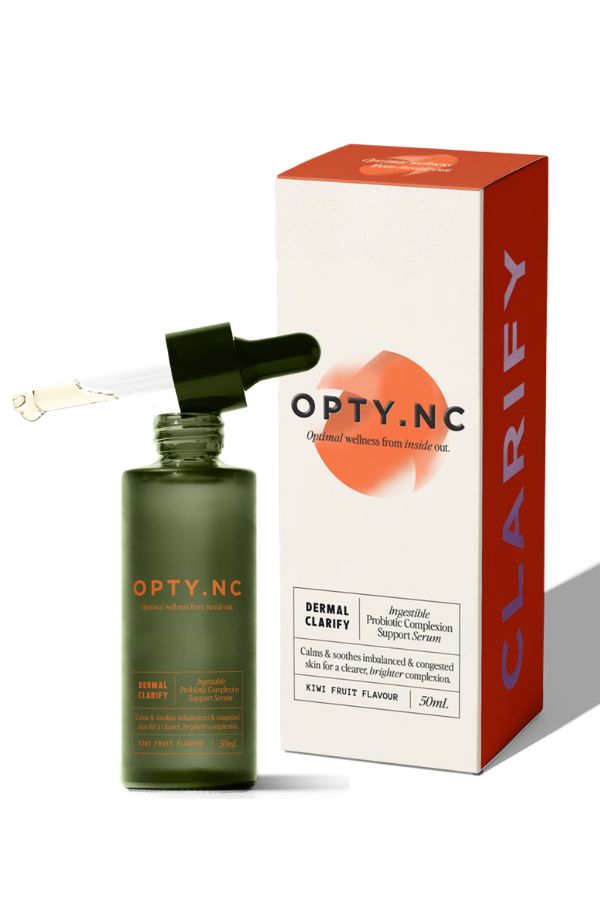 Cellular Renew Ingredient and Nutrition Information
Full ingredient list:

CellRenew OptyBiotics™ (27%) (prebiotic acacia gum, Saccharomyces cerevisiae, turmeric powder, postbiotic Lactobacillus plantarum, Lactobacillus rhamnosus, Bifidobacterium longum), SkinMineral OptyBlend™ (25%) (red marine algae [calcified Lithothamnion sp.], deep seawater magnesium extract, silicon dioxide, kelp powder), OptyEssence (natural flavour, thickener [xanthan gum]), CellRenew OptyBlend™ (14%) (sea buckthorn whole fruit powder, choline bitartrate, silver ear mushroom powder, vitamin C, fermented chickpea extract, betacarotene, natural vitamin E), food acid (citric acid).

Nutrition information:

Serving size: 4 g                 

Servings per package: 28           

Quantity per serving

Quantity per 100 g

Energy

36 kJ

889 kJ

Protein

LESS THAN 1g

5 g

Fat, Total

LESS THAN 1g

2.6 g

     Saturated

LESS THAN 1g

LESS THAN 1g

     Trans

LESS THAN 1g

LESS THAN 1g

     Omega 3

8 mg

200 mg

     Omega 7

20 mg

500 mg

Carbohydrate

2 g

53 g

     Sugars

LESS THAN 1g

11 g

Sodium

10 mg

260 mg

Vitamin A (RE) (50% RDI*)

375 mcg

9.4 mg

Vitamin B1 (41% RDI*)

0.4 mg

11 mg

Vitamin B2 (28% RDI*)

0.5 mg

12 mg

Vitamin B3 (48% RDI*)

4.8 mg

120 mg

Vitamin B5 (33% RDI*)

1.7 mg

41 mg

Vitamin B6 (41% RDI*)

0.7 mg

17 mg

Biotin (150% RDI*)

45 mcg

1.1 mg

Folate (60% RDI*)

120 mcg

3 mg

Vitamin C (50% RDI*)

42 mg

1.1 g

Vitamin E (100% RDI*)

10 mg

245 mg

Vitamin K2 (42% RDI*)

30 mcg

750 mcg

Calcium (26% RDI*)

210 mg

5.3 g

Chromium (18% RDI*)

36 mcg

900 mcg

Magnesium (32% RDI*)

103 mg

2.6 g

Selenium (51% RDI*)

36 mcg

900 mcg

Silicon

50 mg

1.3 g

Zinc (31% RDI*)

3.8 mg

94 mg
*Percentage daily intakes are based on an average adult diet of 8700 kJ.