Ultimate Glow 2.0 Kit
Regular price

$138.00

Sale price

$118.00
Your skin and inner well-being will thrive with this ultra-hydrating duo. 

Our Ultimate Glow 2.0 Kit contains two powerful products packed with gut-loving actives and skin-enhancing nutrients and antioxidants plus additional hydration and skin barrier protection.
Ultimate 2.0 Marine Skin + Gut Wellness Elixir
Award-winning elixir specially formulated for skin aging prevention and smoothing, while maintaining gut support, immune and nervous system health, and microcirculation to combat physical and mental stressors in 30-50 year olds.
Moisture Surge
Ingestible probiotic hydration booster serum is an optimised blend of skin hydrators, while synergistically balancing the gut microbiome to restore and protect from within.

Mix in water together or take separately. 

What it will do for you

Benefits you can see and feel, your daily dose of wellness proven to:

Optimise skin, hair and nail health:
- Smooth fine lines and wrinkles
- Hydrate and plump skin
- Promote formation of new collagen and elastin
- Improve skin elasticity, tone and texture
- Promote skin clarity
- Protect skin from free radical damage
- Support wound healing

Optimise gut microbiome health:
- Improve gut and digestive health
- Combat bloating and indigestion
- Support a healthy diverse microbiome

Promote overall wellness:
- Support immune system health
- Support healthy nervous system function
- Promote muscle recovery
- Support joint health
- Reduce tiredness and fatigue
- Promote healthy metabolism
How it works

We know that optimal skin vitality comes from optimising your health from within. Our holistic approach to skin optimisation begins with the foundation of vibrant, healthy skin – the gut.

We address the complexity of skin nutrition and healthy ageing with a synergistic formula that targets four key contributing factors to universal skin health:

1. Improved gut health and nutrient bioavailability
2. Boosted collagen and elastin renewal
3. Enhanced skin hydration and free radical protection
4. Optimal nutrition for gut, skin, hair, nail and immune health

Who it benefits

Those wanting to experience skin transformation and feel and see optimal results. Four products in one formulation, this multi-benefit elixir has been designed to assist you to streamline your skin health regime.
Ultimate 2.0 ingredient and nutrition information
Moisture Surge ingredients and nutrition information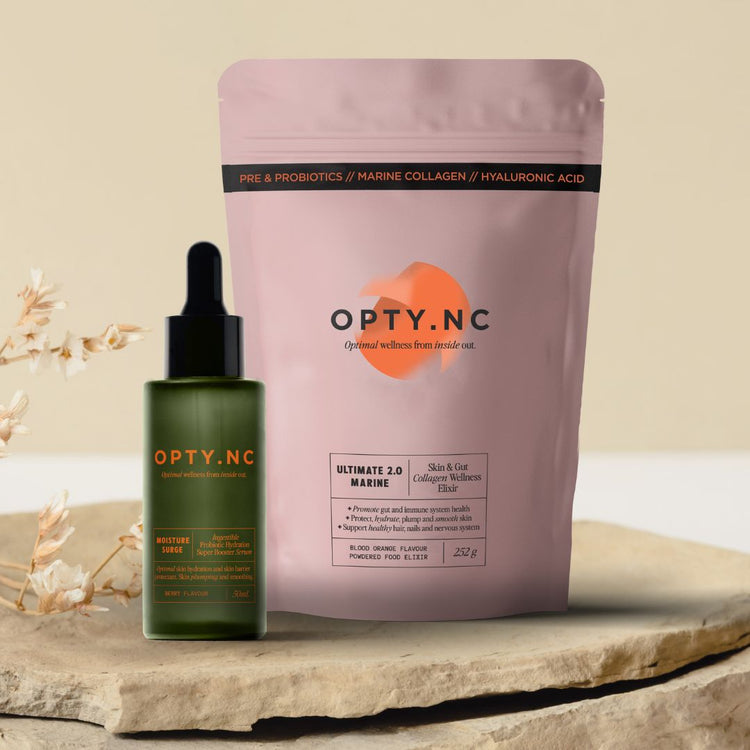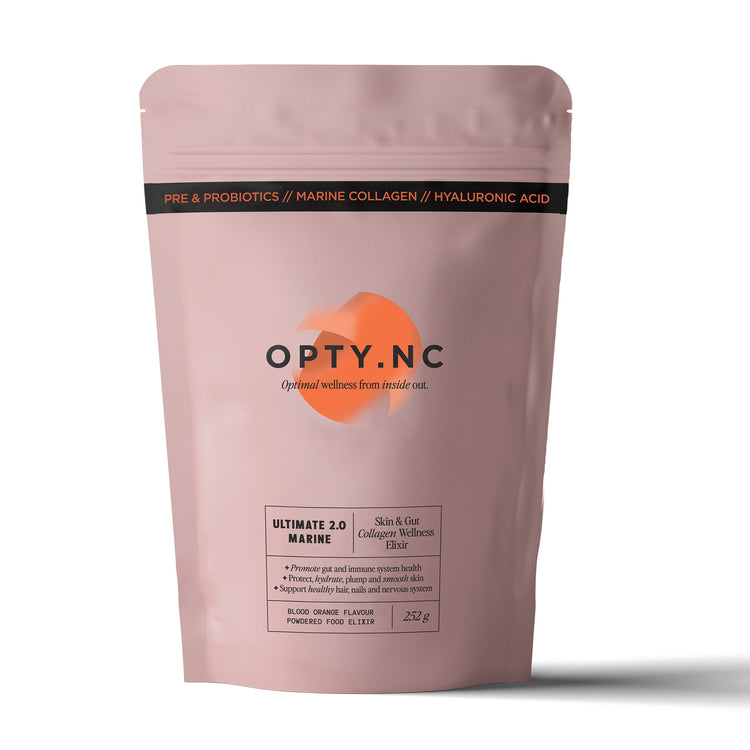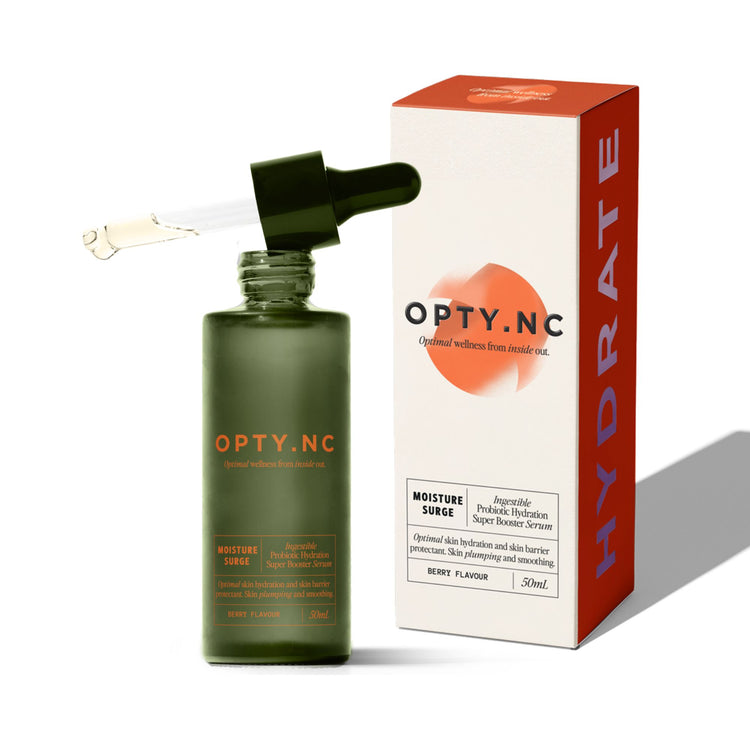 Ultimate 2.0 Marine Ingredient & Nutrition Information
Ingredient List:
CollagenRenew OptyBlend™ (certified sustainable marine collagen peptides from wild Atlantic fish [56%], sodium hyaluronate [1.1%]), SkinFood OptyEssence™ (food acids [citric acid, sodium citrate], natural flavours, stevia[sweetener]), GutRenew OptyBlend™ (7%) (Livaux® gold kiwifruit powder, aloe vera inner leaf gel powder, Bacillus coagulans [probiotic]), SkinFood OptyBlend™ (Saccharomyces cerevisiae, sea buckthorn fruit powder, vitamin C [1%], brown rice hull powder, betacarotene [0.3%], vitamin E [0.2%]), SkinProtect  BioBlend™ (grapeseed extract [2%], Curcumis melo melon fruit juice concentrate)
 
Allergen advice: Contains fish. May contain traces of crustacean shellfish.
NUTRITION INFORMATION

Serving size: 9 g                 

Servings per package: 28           

Quantity

per serving

Quantity

per 100 g

Energy

122 kJ

1352 kJ

Protein

5 g

55 g

Fat, Total

LESS THAN 1g

LESS THAN 1g

     Saturated

LESS THAN 1g

LESS THAN 1g

Carbohydrate

2.4 g

26 g

     Sugars

1.1 g

12 g

Sodium

159 mg

1770 mg

Vitamin A (RE) (80% RDI*)

375 mcg

4.2 mg

Vitamin B2 (28% RDI*)

0.5 mg

5.3 mg

Vitamin B3 (48% RDI*)

4.8 mg

53.3 mg

Vitamin B6 (41% RDI*)

0.7 mg

7.3 mg

Biotin (150% RDI*)

45 mcg

500 mcg

Vitamin C (265% RDI*)

100 mg

1.1 g

Vitamin E (50% RDI*)

5 mg

55 mg

Selenium (51% RDI*)

36 mcg

400 mcg

Silicon

18 mg

200 mg

Zinc (31% RDI*)

3.7 mg

42 mg

Gold Kiwifruit [prebiotic]

600 mg

6.6 g

Bacillus coagulans [probiotic]

1 billion CFU

11 billion CFU

Grapeseed [antioxidant]

187.5 mg

2.1 g

Melon SOD [antioxidant]

140 IU

1555 IU

Hyaluronic acid

100 mg

1.1 g
*Percentage daily intakes are based on an average adult diet of 8700 kJ.
Moisture Surge Ingredient & Nutrition Information
Full ingredient list:

Hydrate OptyBiotics™ (50%) (fermented noni and black rice [containing postbiotic Lactobacillus plantarum, Lactobacillus paracasei]), glycerol, SkinHydrate OptyBlend™(6.5%) (hyaluronic acid, acerola cherry, zinc gluconate, biotin), OptyEssence (citric acid, natural berry flavour, stevia), potassium sorbate.

Nutrition information:

Serving size: 2 mL                 

Servings per package: 25           

Quantity per serving
Quantity per 100 mL

Energy

6.5 kJ

324 kJ

Protein

LESS THAN 1g

LESS THAN 1g

Fat, Total

LESS THAN 1g

1.3 g

     Saturated

LESS THAN 1g

LESS THAN 1g

Carbohydrate

LESS THAN 1g

15.6 g

     Sugars

 LESS THAN 1g

 1.1 g

Sodium

3 mg

154 mg

Biotin (100% RDI*)

30 mcg

1.5 mg

Vitamin C (25% RDI*)

10 mg

 500 mg

Zinc (25% RDI*)

3 mg

150 mg

Postbiotics (L. rhamnosus& L. plantarum)

2 B cells

100 B cells
*Percentage daily intakes are based on an average adult diet
of 8700 kJ.
Natural Ingredients
Highest Quality, Nutrient Dense
Gut-Skin Connection
Addressing the Root Cause
Five Star Reviews
Real People, Real Results
Sustainably Sourced
Ethical & Responsible Practices